In earlier versions of SCCM, customizing your inventory involved hand-coding MOF files and then replacing critical files in your SCCM installation directory with these. Even though SCCM was quite smart about parsing these and ignoring invalid files, this still scared most people off even attempting such things and thus custom inventory classes were sadly almost never used in production environments.
Luckily Microsoft streamlined the procedure in SCCM 2012 and it's now possible to do this purely in the GUI. To extend the inventory, browse to "Administration" -> "Client Setting" then open your default client settings. Go to "Hardware Inventory" then click on "Set Classes…"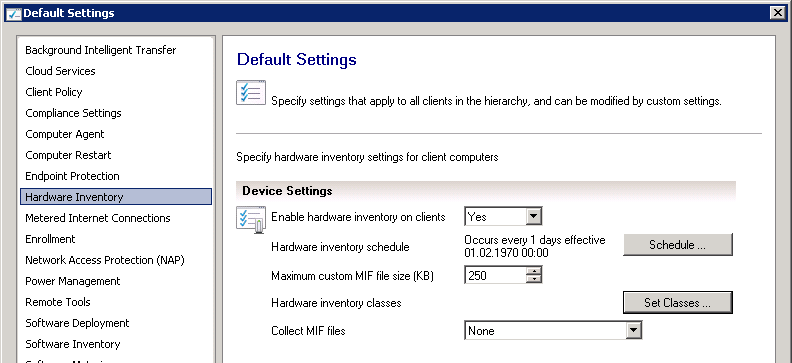 In the following window, click on "Add…" then on "Connect…" and enter the name of a PC that you have already run the script from part 1 on. You will then receive a list of the WMI classes available for collection on that PC, one of which will be our newly created one.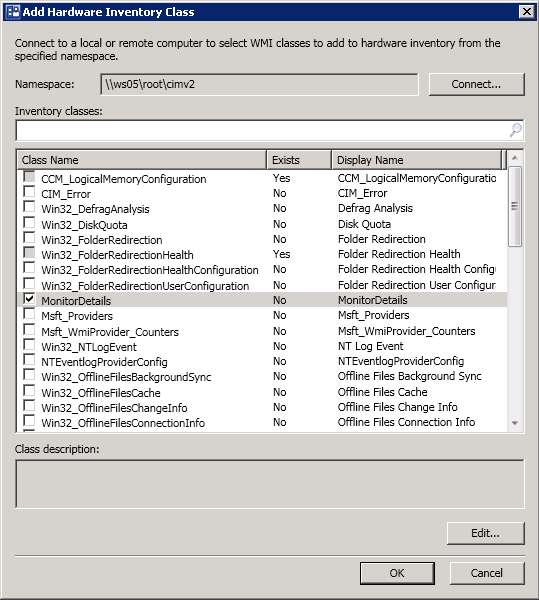 Select the MonitorDetails class for collection and press OK three times.
You can now either wait for the settings to take effect on your systems – which may take days depending on your hardware inventory cycle – or you can speed this up by first doing a Machine Policy Retrieval & Evaluation Cycle, waiting a few minutes for that to take effect, then follow up with a Hardware Inventory Cycle.

You will also get a new View in your SQL database called v_GS_MonitorDetails that you can query for reports.
In part 3 of this guide I will show you how to create a report to display this collected data.